Assalammualaikum....
Today, almost 17 days already we're fasting. Fuh, time definitely pass quickly then we thought. Yesterday, my university supervisor make a final visit. So, now, i'm absolutely feel relieve as i already present in front of him. Even i had still not complete my task, i hope my supervisor give me a good grade. This industrial attachment programme worth 6 credit hour beb! Just imagine if i got A, my pointer will rise almost double! Ok, i dun know how to calculate CGPA but it's definitely helps if i got a great grade.
Ah, last Monday, i came out in newspaper! I never read Sinar Harian before. My father only buy New Straits Times and Utusan. Only when i'm in UTHM i start to read Sinar Harian. It's only a picture of me and others staffs during iftar with media. Wan to c the picture? Tgklah kat bawah ni...
Which one is me? Pndai2 lah teka. Ok, next. Saya baru belajar wat gif atau animated picture. Sukernya! Tadi pun baru wat photoshop. Tapi skil masih di level 1 lah. wat wallpaper mcm lukisan kanak2. My first gif from Hell No BTR concert a.k.a my little hubby...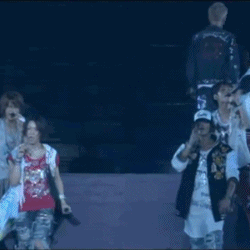 Ah, forgot! i forgot to post my juadah berbuka! I will edit this later with my juadah berbuka recipes,huhuhuh!